While we try to avoid click-bait headlines, they do score. "The best video you will see al day" and "Over 9 million views for this hydroponic lettuce video" were amongst our best read articles of 2018. But there's more. Here are our best read articles from 2018. 
Following unofficial reports on the sale of Bayer's vegetable seed business, the company has  officially confirmed plans to sell breeding department Nunhems in order to receive approval for their Monsanto take-over. Our article on this topped the 2018 publication list.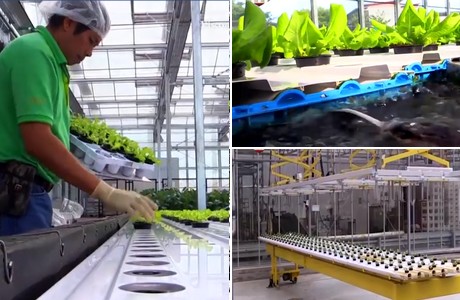 And than we go all click-bait on you. Two video's have proven to be very popular amongst both our readers as well as others. Over 9 million views for this hydroponic lettuce video shows a very neat video of a hydroponics system that went viral both in as well as outside the horticultural industry. The same goes for the video with a singing tomato farmer. This is the best tomato video you will see all day, with the Lauvsnes Gartneri team singing about tomatoes, gained enough attention to make it to our top 10. 
Cannabis is a hot topic at the moment and with HortiDaily we do not want to focus on this new crop too much. However, when we publish about vegetable growers switching to cannabis, it is very popular amongst our readers. Everybody wants to know what their readers are up to! Well, we've published about it in April in The Great Cannabis Switcheroo.
Amongst many of our publications we can see that indeed drama is a guarantee for clicks. Amongst our HortiDaily subscribers, fortunately this is not the case: you prefer technical insights and novelties over fraud, festivities and photos. However, since the future of indoor farming projects & rooftop farms is debated much, the article about the Dutch rooftop farm being declared bankrupt was a hotshot. Also the follow-up, about the viability of urban farming, gained a lot of attention, as well the responses of the industry saying: "Vertical farming is difficult in the Netherlands".   
With the labor costs currently being 30% up to even 50% of the total greenhouse production costs, reducing the amount of it in a greenhouse company is an important topic at the moment – even more if you take the global labor shortage into account. Many companies are working on automotive solutions, having robots taking over the job. One of the new players in the field is MetoMotion. Our article about their tomato harvest robot made it into the top of best read articles. 
Also focusing on labour is the article about the Tomsystem, the tying system that helps growers increase efficiency and reduce labour.  . The developers of the tying system launched a new clip suitable for tying organic crops such as tomatoes, cucumbers and sweet peppers. This new non-galvanized clip has been tested by Bio Gemuse Wagner in Germany with extremely positive results.  
Focusing on high-tech greenhouse growing means focusing on a niche market. In general we see that the more clicks there are on an article about a general horticultural topic then there is for example on an article about eggplant cultivation in the desert. The TAPKIT launched by Teshuva Agricultural Projects is applicable widely and gained a lot of attention. "The idea is to enable small farmers to have their own hydroponic business, where they can grow and market their production to the neighbors, neighbor restaurants and their own consumption", Teshuva Agricultural Projects CEO Avner Shohet explains.  
We know articles on new greenhouses being built are read very well in general - but this one is very special. It's not just about a greenhouse, but a about a greenhouse in the desert, with solar mirrors inside. We'll keep you updated on the progression on this project. In terms of clicks, they've just beaten the article about the Pure Harvest desert greenhouse. 
"Growing in vertical farms differs from greenhouse growing a lot. This is why new growing recipes and guidance needs to be offered together with the equipment." Speaking is Niko Kivioja, CEO with Netled Oy. The company develops and sells turn-key fully automatic vertical farms and has just opened a new demo facility in the company's premises in Pirkkala. The article was published on one of the last days of the year, but that didn't keep the clicks away. 
While the greenhouse vegetable acreage in the Netherlands remains fairly stable, the number of companies has been dropping for years. The reason for this? Scaling-up is the trend in the field of greenhouse vegetables. The Netherlands now has three companies with each an acreage of over 100 hectares of greenhouses. But who are these companies, and how did they become this large? We'd like to introduce them to you.
Golden oldies that are always popular: "900 crops of lettuce per square meter, and only 4 laborers per hectare" , Technology converts organic wastes into organic fertilizer in just one day and Canadian entrepreneur thrives with self- developed hydroponic system, followed by Humidity and greenhouse climate control. 
Here's our complete 2018 best read list: