While most of the commercial greenhouse growers are still not convinced about the potential of vertical and urban farming, Canadian greenhouse grower Jack Benne is one of the first to use his extensive experience to create a viable business model for indoor vertical production of leafy greens with CubicFarm™.
Jack and his son Leo decided to join the vertical farming boom when they saw a potential for a new farming system to tackle the demand for fresh, year-round, locally grown produce in urban areas. Based on the years of experience and in-depth knowledge that they gained in their commercial greenhouse operations, they came up with the idea to create a food production system that uses a machine to grow a high number of crops in the least amount of space with just a small amount of light and water. The idea for their CubicFarm was born.
They designed a system based on a conveyor rotation method. Their latest model has 206 trays in rotation that each provide space to 17 plant holes for lettuce, 34 for herbs, as well as different trays that can accommodate micro greens and several other varieties. Combined with efficient LED lighting and an automated nutrient delivery system, the unit is able to produce up to 3,200 heads of lettuce every two weeks or twice as many herbs. The system allows year-round production, is scalable to farm on a large scale and the units can be placed in a warehouse, greenhouse, shipping container or any other kind of controlled environment.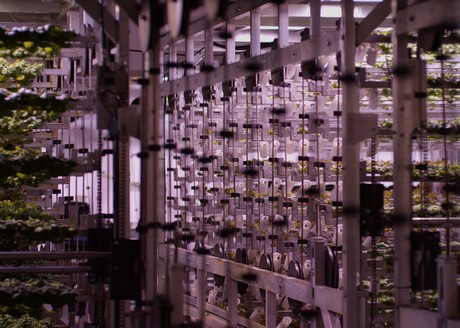 "You can't produce more food in a smaller amount of space with such a tiny amount of fresh water and electricity than in our CubicFarm system", said Dave Dinesen, CEO of Cubic Farms. He explained that the entire system is designed in a way to grow as efficiently as possible and to keep the cost price of the locally grown produce competitive.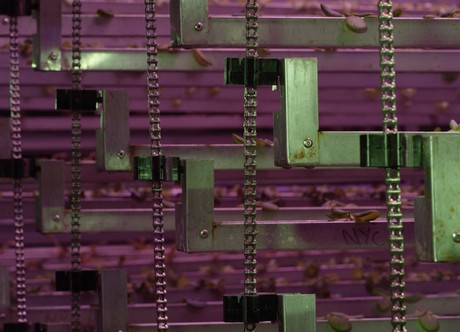 This is achieved thanks to the rotation system; as only one layer of light is needed to illuminate 8 layers of food, the operational costs for the system are kept low. "This is what makes our system completely different from other vertical or cubical farming systems. Even compared to greenhouse operations, we know that the system can grow locally grown produce at a competitive cost price, year round."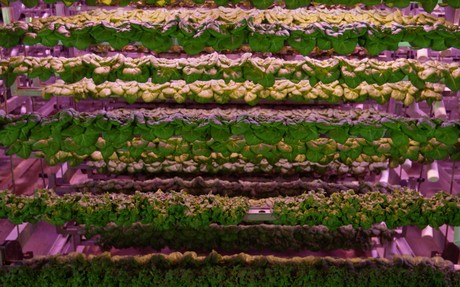 After the introduction of their first commercial production units in 2014, CubicFarms further developed and optimized their patented system. They recently introduced a new version of the system, and this year two Canadian companies will start using their technology on a large scale.
"We are focusing on large scale production and are looking at having hundreds of CubicFarm machines in production. Therefore we partner with companies that want to produce millions and millions heads of lettuce a year", said Dinesen.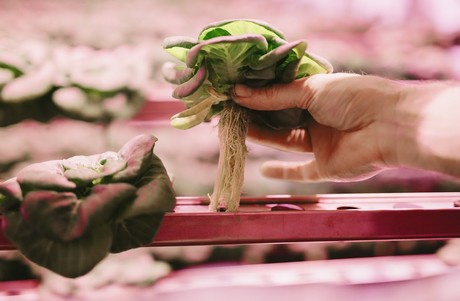 The first large operations that will be using CubicFarms technology will be in Canada, in cooperation with growers that are already active in the ag space and that want to add several new products and produce these 12 months a year. One of these operations is being set up in Ottawa and another large grower/produce supplier is about to start planning their CubicFarm Operation this month in British Columbia.
Dinesen is confident that the large scale CubicFarm operations have the potential to become competitive year-round producers of leafy greens, lettuce and herbs for the local market. They worked with Vancouver investment banking firm Agentis Capital to create a financial model to support the investments and figured out the costs of production with the CubicFarms. "We build models based on land costs, labour costs and electricity costs, we know what machines cost and know at what price the produce can be sold. So we have created a real robust, bankable financial model to take the mystery out of it."

For more information:
CubicFarm Systems Corp.
jo-ann@cubicfarms.com
www.Cubicfarms.com