After a long career in the Agri-banking industry, it was time for change. Aaron Bickell has been through some interesting and challenging years helping both Viscon Group North America, and Formflex/Metazaet Canada expand and prosper in the North American horticultural market. Now that the Leadership of Formflex Canada now being handled completely by Albert Pinto, Aaron was ready to give his full attention to Viscon Group North America and the newly commercialized company Ecoation of North Vancouver. "I really needed to focus, I have a passion for newer life cycle companies. And then, of course, there is my family life – never underestimate the importance of that." 
Focusing on the horticultural industry
It has been over 5 years since Aaron Bickell moved on from his role at Farm Credit Canada. Focusing on the horticultural industry for the bank made him enthusiastic about horticulture and its opportunities. "I knew and liked the people in the industry, and had fresh produce experience and knowledge before joining it myself," he says.  After being approached for this adventure by Arie Barendregt, who started up the Canadian businesses for both Metazet, Formflex, and Viscon Group, together they helped the North American industry through the recent growth years, and expanded the companies along the way. The gutter systems from Formflex, the logistics systems from Metazet and the automation solutions of Viscon – they turned out to be solutions really needed to help the North American industry develop and deal with issues like crop safety, water and input use, and labor scarcity. 
"Many of the Formflex/Metazet products are complementary to Viscon," says Aaron. "Viscon supplied a lot of unloading and buffering solutions for example, which integrate nicely with Formflex/Metazet's M-Track logistics system." However, despite the synergies and an almost symbiotic relationship, eventually the companies grew too big to keep together. "The market has developed and both companies have grown. They are not going in different directions, but sticking together could become a strategic disadvantage. Both companies need active leadership", says Aaron.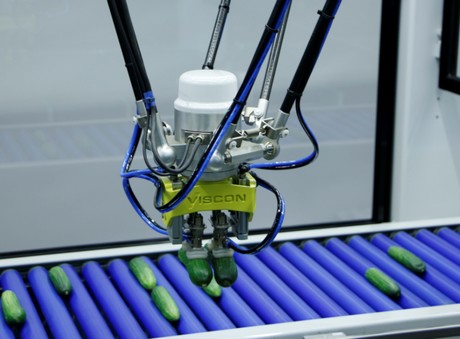 Equal partner
Therefore in 2017 Arie Barendregt shifted his leadership and vision on Viscon Group exclusively and established the company Viscon Group North America for this, in which Aaron is an equal partner as well. For Formflex/Metazet a transition period followed for Aaron to work closely with now director Albert Pinto, who is completely in charge now. According to Aaron, he was the clear choice for this position, and felt comfortable exiting my ownership of the company.
"Of course it wasn't an easy decision to step out of Formflex/Metazet, but Albert knows the company by heart. He started rolling gutters for Formflex/Metazet and moved through virtually every part of the company, from sales, to service, to HR, and in the process got to know everything about the company. He has strong customer and tactical skills, combined with the soft skills of leadership," Aaron says. "Formflex/Metazet is in good hands."
Automation
So time to relax a bit? Well – that's not exactly the case. "Family has been an important reason for me to make this decision as well. To be honest, being caught up in the business can often make you struggle to find enough time for your family life. Being a father and being a husband is something that for me could no longer be combined with being involved in three growing companies."
Three? Yes – three. Since 2 years ago, Aaron has been involved with Ecoation, the company developing AI robots helping growers to automate and upgrade their crop protection. Taking part in the advisory board Aaron helped set up the connections with Dutch companies, amongst which also Formflex/Metazet, whose technology is being used to carry and automate the sensor and camera array that feeds the artificial intelligence modeling.

One of the Ecoation products being used in the greenhouse
Robotizing
Both Viscon Group North America, and Ecoation, offer growers solutions to automate and robotize their business, and they continuously develop new products and techniques for these topics. It's exactly this phase of the company growth that fits Aaron like a glove. "Running a mature company and product line is different than a company in a growth mode, and I have a passion for newer life cycle companies. They are a lot of work: In new markets, it feels like there are limitless possibilities. There is no standard, so you have to figure out every day what to do, developing new products, new uses, new programs, whilst keeping your focus on the greater goal. It's a strategic game, and without the right focus you could easily lose yourself in it. Keeping that focus and focusing the team in the same direction, that's my place in the business."  
For more information:

Aaron Bickell   
Viscon
a.bickell@viscon.eu 
www.viscongroup.eu