Today the PMA kicks off in Orlando, Florida. The exhibition traditionally is the meeting place for the fresh produce trading industry and is known for the many packaging novelties being presented. Over the last couple of years more and more greenhouse growers have found their way to the exhibition, of course with the suppliers in their wake. Here's what not to miss these days!
Of course various greenhouse growers are to bring novelties to the show. Seven products for Pure Flavor, for example - who apparently did not only extend their greenhouse, but also their assortment. NatureSweet is also to extend their assortment. Remarkable is how their organics line has doubled in size since its start in 2017. Red Sun Farms will be showcasing its new snacking-sized tomato - Sweetpops - at PMA Fresh Summit this weekend. If this isn't sweet enough for you, there's Mucci to visit: they are to bring greenhouse-grown strawberries with chocolate flavoured dip.
But enough with the foods, let's talk about the suppliers! Who's not to be missed these days? We've selected three novelties to be launched at the exhibition. Our editor is on location to spot many more and will update you extensively on Monday with a photo report. 
Visiting the show? Find the exhibitor list and the map here. Curious about last year's edition that was held in New Orleans? Click here for the article and photo report
Pepper twine
The product range of HSI is steadily increasing, and one of the latest new additions is the bell pepper twine or string. Nico van der Spek learned there was a need for a softer twine in a pepper crop. By processing the fibers, the horticultural string became softer and doesn't cut into the crop as much. "This obviously benefits the crop", he explains. 
However, HSI did not want to lose the strength of the string, and they succeeded. Nico: "With our twine we are certainly competitive with other suppliers."
Randor Cena and Nico van der Spek: "There is no fold in this twine."
In addition to the traditional twine, there is also a bio version. "We see increasing sustainability in horticulture and we would like to contribute to that. Our bio twine also has an excellent breaking power."
HSI offers the twine in different colors so that it is user-friendly. "Speaking of user-friendliness, because the twine is softer, there are no weird folds in the twine. This works well for people and saves on labor costs."
For more information:
HSI / Hortus Supplies International BV
Noordpolderweg 21
1432 JH Aalsmeer
Netherlands
Tel: +31 297 524919
Fax: +31 297 525288
export@hsibv.com 
ww.hsibv.com 
Plasticulture concept
The Armando Alvarez Group presents their concept "plasticulture: solutions in the horticultural sector from the field to the table." The family owned business has adapted its range of products in order to better provide integrated solutions in plastics, since this is what the increasingly more global and competitive industry demands of production.
"Our commitment to adding value to farmers enables us to offer solutions from soil treatment and crop cycle to post-harvest and produce distribution, ensuring yield quality and extended shelf life", they explain. Amongst their latest innovations are chemical disinfection plastic, mulches and mini tunnels, various biodegradable products (including crop support twine & mulch), solutions for storage and distribution of water for irrigation & of course a wide range of greenhouse and tunnel covers.
For more information:
ARMANDO ÁLVAREZ GROUP
www.armandoalvarez.com
sales@armandoalvarez.com
+34 950405600

Self-assembly greenhouse to be launched in USA
The TAPKIT, a self-assembly hydroponic greenhouse, is to be launched in the USA for the first time during the PMA. This farming solution was developed by the Israeli company, Teshuva Agricultural Projects (TAP). This company builds commercial greenhouse installations throughout the world.
"North America is looking for better solutions for local produce, so-called farm to table produce", says TAP's CEO, Avner Shohet. "People are looking for fresh products that leave less of a carbon footprint." He says there is a lot of effort going into urban farming in that country. "The TAPKIT is another solution. It can be used for suburban farming where the land is less expensive, making it a cheaper solution, with the added benefit of less energy consumption."
The TAPKIT is a 500 m2 hydroponic unit, which can produce 6-12 tons of leafy vegetables and fresh herbs per year. "We started with the idea of TAPKIT for small farmers to have their own hydroponic system, but since then the kit has been ordered by resorts for their kitchen supply and retailers for their own shops too", says Shohet.
For more information:
Avner Shohet 
T.A.P / 2BFresh
Office: +972-9-8940507 
Mobile: +972-50-7922579
Email: avner@taprojects.com
www.taprojects.com
PMA
In total, over 1,200 exhibiting companies are attending the expo and  then 20,000 participants throughout the global fresh produce and floral supply chains come together as a community to learn, network, build relationships, and do business. The event brings together produce and floral industry leaders, retail buyers, food safety experts and importers/exporters from across the globe.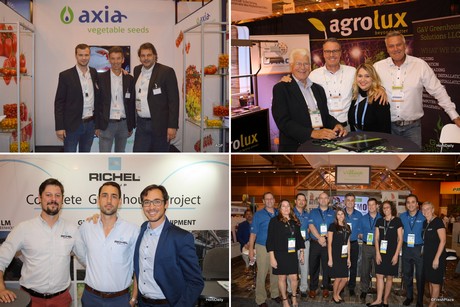 Visiting the show? Find the exhibitor list and the map here. Curious about last year's edition that was held in New Orleans? Click here for the article and photo report
For more information
PMA Fresh Summit Conference and Expo
https://www.pma.com/events/freshsummit