The Spanish greenhouse vegetable season started well in September. "Bell peppers and cucumbers were hot, aubergines were in demand. In the Netherlands, the crops suffered a lot from the heat. We all thought: this is it, we're going to have a great spring because the Netherlands will stop earlier," says Kees Havenaar from Frutas Luna. However, the Spanish growers were disappointed. "The party lasted two-and-a-half weeks, and then everything fell into place again. I expect the Netherlands dropped their prices a bit, to be able to join in on the programmes Spain could participate in earlier."
More bell peppers planted

"Apparently, more bell peppers were planted here in Spain than last year, and they were planted a bit earlier than in previous years as well. I think this is mostly because last winter the months of December, January and February weren't great, but prices went sky-high later in spring (April and May). However, production was already 75 per cent done then, because no one wants to take a gamble in this period due to thrips and other problems," Kees continues. "That's why people started planting earlier. But the plants suffered here as well. September was exceptionally warm, so the first plants are a bit delayed in the El Ejido / Roquetas region. According to statistics, the bell pepper area is now larger than the tomato area. The area of red-pointed, sweet pointed and Capia bell peppers has also increased. We'll see what happens. It's always exciting to start a new season, but it's a bit like crystal-gazing as well."
Aubergine area also increased
The Spanish aubergine area has also increased. "They're even talking of a 10 per cent increase to 2,200 hectares, according to estimates of a well-known Dutch seed company. The remarkable thing is that we haven't noticed it much. The aubergine plants also suffered from the extreme heat, and a lot of flowers fell from the plants. Normally, auction prices would now be around 40 cent, but prices are a stable 25 to 30 cents higher now," Kees says. "According to growers of Frutas Luna, more aubergines will arrive on the market after 15 October. That doesn't mean the market will collapse, it could be that Eastern bloc countries start demanding a bit more then."
Loose tomato suffers
"I personally think loose tomatoes have started suffering. The loose tomatoes had some problems in recent years, so I expect most growers would prefer vine over loose. Here in Spain, they have the option to choose which they prefer at some point," Kees says.
Cucumber and courgette area unchanged
"I get the feeling the cucumber and courgette area remains fairly unchanged. The cucumbers did very well about a month ago. The Netherlands had a bit of a shortage for a short while, and we were once again asked to participate in the programmes. Everything has fallen back into place in this field again as well, and prices aren't bad yet for the time of year. We're now between the old summer production and the new winter production. Once again, it was difficult here for two weeks due to the heat," Kees explains.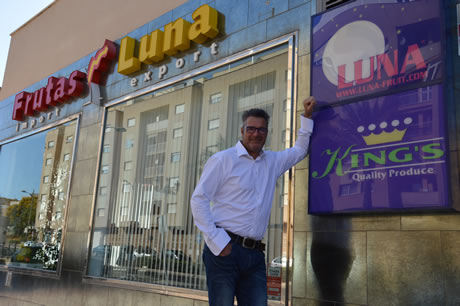 "All in all, I feel positive again. We haven't had a lot of problems with viruses, the weather's still good, temperatures have dropped to the benefit of our planting, and we from Frutas Luna are ready for it again with our growers. As always, we can supply bell peppers, cucumbers, peppers, aubergines, white and red-pointed bell peppers, courgettes and vine tomatoes in our own brands Luna, Kings and Classico," Kees concludes.
For more information:
Kees Havenaar
Frutas Luna import/export S.L.
Avenida Sabinal 253
04740 Roquetas de Mar (Almería, Spain)
Tel: 0034-950178653
Mov: 0034-670916286
Mov: 0031-615873653
kees@frutasluna.com
www.frutasluna.com