The Missouri City of Springfield Solid Waste Management Division is pursuing the possible development of an Agriculture Park; which would include the construction of a greenhouse. This greenhouse will be powered by renewable energy generated by the Noble Hill Renewable Energy Project, which produces its power from methane gas provided by the Springfield Sanitary Landfill. 
As a result, the greenhouse will also have its heating requirements met by the waste heat generated by the combustion of the methane gas. Meeting both the electrical and heating requirements for the site from renewable sources should allow this facility to produce locally grown, economically competitive, fresh produce.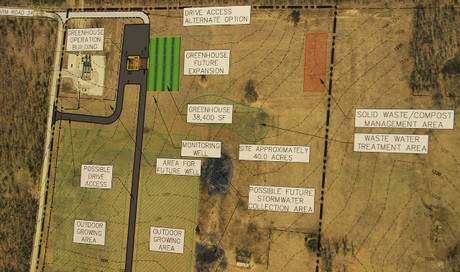 The City has modified a previously-released request for proposal (RFP) due to overwhelming interest from potential partners, including local growers, educational institutions, local markets, non-profits, and private businesses. The new RFP offers the opportunity to lease designated land, adjacent to the Renewable Energy Center, for the Agriculture Park in which the facility would be developed and constructed in partnership with the City. No tax money is included to help fund the project.
In addition, the modified RFP encompasses input received from growers, community leaders and future partners from the past several years. This translated into an increased 120 day proposal submittal. Most importantly, it influenced the finalization of these seven specific proposal goals:
Greenhouse(s) utilizing waste heat from the Noble Hill Energy Center, including back up heat source.
Provide locally grown, fresh, produce for local and regional markets that reduces the region's dependency on imported products.
Provide education, research, and job training opportunities for Springfield's schools and higher education institutions.
Provide a source of locally grown healthy foods to local food pantries.
Provide local jobs and business opportunities by recruiting Springfield area partners and employees to manage and work at the new facility.
Provide satisfactory terms for land lease rates, purchase of waste heat, and purchase of other utilities.
Provide other innovative uses of project site(s) and additional community benefits