Now that labor shortage has become a greenhouse grower's biggest nightmare, robots and clever machine vision technology are quickly winning terrain in pack houses. 
During the Canadian Greenhouse Conference Bus Tour we were invited to see how Mucci Farms uses advanced robot and vision technology to cope with labor shortages while improving the quality of its product at the same time.
With more than 400 acres of production in the Leamington area, Mucci Farms is one of the larger greenhouse produce companies in Ontario. Besides a wide range of tomatoes, peppers, specialty vegetables, strawberries and leafy greens, the company produces millions of Long English, Snacking and Mini Cucumbers. As these products require a significant amount of labor during the sorting and packing process, Mucci Farms started to research the opportunities to automate a large part of the packing process. 
Mucci approached Viscon to design and engineer an advanced robotized system for their mini cucumbers packing line. Viscon came up with a design for a high-speed sorting and packing line that includes 4 vision controlled robot arms that guarantee saving of an extraordinary amount of labor. 
Arie Barendregt, General Manager of Viscon North America explained that the system uses a special 'one touch' technology concept to handle the mini cucumbers. "What makes this system so efficient and special is the computer software programming that enables the robots to work at a really high speed. The machine is able to scan the quality and size of the cucumber and make a graded selection in the blink of an eye."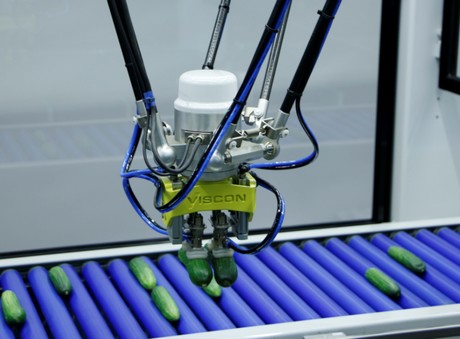 In comparison, more traditional packing solutions may see this product being handled as much as 5 times. In Viscon's new fully automated system, the cucumbers are handled just once by picking and placing the graded cucumber directly into a tray that is placed inside a special aluminium holder. This one-touch solution is very gentle, minimizes product defects, and ensures product quality throughout the process.
Thanks to the clever software, the machine can grade and pack three types of sortings at the same cycle. For example, two lines make 8-count trays with quality A and another line simultaneously makes trays with 6-count B quality product. Or one line makes 6-count quality A, another one 8-count quality B and a third one 8-count quality A or vice versa. The high speed robot knows exactly what to do with each individual cucumber.
While these robots, automation and vision technology are often linked to high investment costs, Barendregt explained that this solution brings the ROI of the investment back to just a few years. "This machine is able to pack up to 90 trays per minute. Aside from all of the advantages in the quality of the selection process, the system replaces more than 25 workers who are normally required to grade and handle a similar amount of packs per hour. And good employees are hard to find, come with housing costs and have a less constant factor than a machine." 
In addition, the robot enables Mucci Farms to work more efficiently and consistently in terms of quality and grading. "The software is aware of the selection criteria for each individual customer of Mucci, so they can grade packs in a more client specific manner. This adds value to the product too, as you can now offer a perfect sorting that meets the customer's preferences." 
Barendregt expects that more greenhouse growers will invest in similar technologies over the coming year. "Mucci was a pioneer with this system, we learned a lot during the engineering of this project. This experience can be translated into other projects and product categories. In the end, labor will only become more scarce and the industry will be forced to take advantage of this kind of innovative technologies." 

For more information:
Viscon North America