From Finland to the Fijis and from Brazil to Baku. Growing healthy, local greens in an efficient and sustainable way has grabbed the attention all over the world. Especially in North America. Reason for hydroponic gutter system pioneer Green Automation Export to increase its focus on the overseas market with a new branch office in the U.S..
Green Automation has longevity with its automated hydroponic gutter systems. In previous articles on HortiDaily we already told you the story about the system invented by the Finnish Rapila family. With the help of clever automation, they grabbed our attention with a gutter system that allowed for a production of
900 heads of lettuce per square meter
with only 4 workers on a hectare. 
After several upgrades and installing a number of commercial installations throughout Europe, the company is now gaining foothold in the U.S.. New York rooftop farming pioneer Gotham Greens was the first to deploy the GA system inside their New York and Chicago operations. Last year, Massachusetts based Little Leaf Farms as well as New Hampshire based Lēf Farms started producing their lettuce with GA system inside their greenhouses.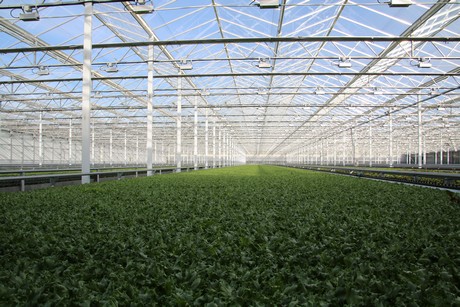 Green Automation took the step to establish it's own US entity by forming Green Automation Americas, which is based in Florida. Tero Rapila, Co-Founder and CEO of Green Automation in Finland felt strongly about being represented in the US with a dedicated company vs being represented by an agent. 
"Agents typically represent multiple companies from different sectors so they don't have the necessary time to focus or fully understanding highly automated and complex systems. To serve our customers the best possible way, we needed our own subsidiary. And we are now expanding our team, both as a result of the new projects as well as to enhance our service and support function for existing clients.".
"We expect to see the biggest growth in the U.S. over the next couple of years due to a couple of Mega-trends", said Patrik Borenius, president of Green Automation Americas. 
"On one side this is due to the growing demand for fresher, healthy, locally grown, pesticide free food. Then there is the challenge of finding labor in the agricultural sector, which is getting increasingly difficult. In addition, for the soil based growers on the Westcoast, water is becoming a limiting factor. And finally, there is much interest and thus available funding in the U.S. around innovative agro tech solutions. All these factors make an efficient and automated hydroponic NFT lettuce production in a modern greenhouse, a highly attractive solution."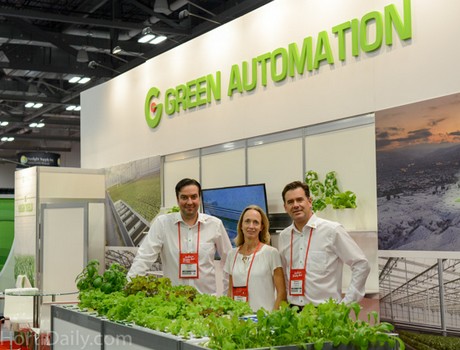 Tero Rapila, Helena Borenius and Patrik Borenius of Green Automation at the 2017 Cultivate convention in Columbus, OH. 
An important factor why Green Automation's systems are such a good fit for the U.S. market, is that their latest system is designed for the production of baby leaf lettuce as well as the further enhanced emphasis on minimizing labor. From seeding to growing and harvesting, the company offers all sorts of complete turnkey hydroponic production systems that enable crop production with a minimal number of workers. "While both solutions have a very high degree of automation, we offer an 'automatic system' and a 'fully automatic system' ", Borenius said.
The automatic system is an automated version of the traditional 75 millimeter wide hydroponic leafy greens gutter system with planting holes. Making optimal use of growing space and investment cost, Green Automation's hydroponic production line automatically spaces out the plants during the growing phase. Optional technology like seeders, and conveyor systems to transport the gutter systems to the harvesting area, makes it a flexible modular solution that can grow with the company. Borenius explained that the automatic system is touted for operations of 1 acre and up in size.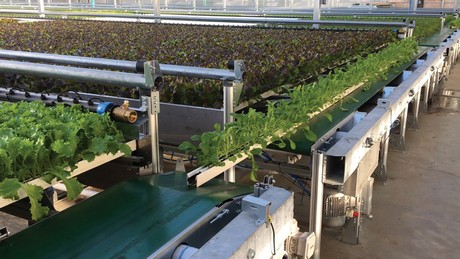 "For growers interested primarily in growing true baby leaf lettuces, we offer a fully automatic system, which comes standard with seeders, automatic growing media filling machines for rockwool or peat and a harvesting/cutting machine. This system makes it possible to fully automate the entire process: from seeding to harvesting and packing; it requires a minimal amount of labor to operate." The recommended minimum size for the fully automatic system is typically 2 acres. 
The fully automatic system has seen a number of innovations in the last few years. The first is integrating a partial "lower level" below the actual growing line. The gutters are moving along that lower level for the first few days during the germination phase, when sunlight is not needed or desired. "After that, an automatic elevator moves the gutters up to the actual growing level that is exposed to the sun and growing lights. This allows for an even more efficient utilization of the growing area in the greenhouse."
 More recently the company added other new features, such as an intelligent grading scale and mixing line that optimizes the production of bagged salad mixes. Another upgrade that should be mentioned is an all-new, uniquely shaped gutter was created to enable the use of special media mixes such as peat without clogging the drain channels. 
For both the rockwool- as well as the peat based babyleaf systems, Green Automations holds multiple worldwide patents, and with those patents as well as more innovations on the way it is determined to defend it's leading position in this field.
Green Automation has high expectations for their systems in North America. "We can offer a commercially viable and scalable solution with an attractive ROI. Our technology is currently successfully implemented at four U.S. locations, and we have more projects in the pipeline. "Our existing order-book reflects this with new projects currently in production and scheduled to be up and running in the first half of 2018 in places such as Florida, New York as well as west of the Mississippi" concluded Borenius.
For more information:
Green Automation
Patrik Borenius