Until two weeks ago, the state of Victoria had enjoyed a prolonged COVID-free period and the associated freedoms that accompany it. This even saw crowds of up to 85,000 at the MCG for Australian rules football games. However, that all changed when a positive covid test was returned on a gentleman who had traveled from South Australia after spending time in hotel quarantine.
As the case numbers increased, the government placed the whole state into a lockdown situation which saw shops and businesses forced to close and members of the public limited to only traveling within a radius of 5km for essential shopping, permitted work, education, medical care, and limited exercise. This was initially implemented across the whole state for 5 days, and then conditions were relaxed a little for Victorians living outside the Greater Melbourne Metropolitan area.
So how did the horticultural community cope? "Well as an industry, Horticulture is made up of some resilient people and it was for many a case of 'here we go again'," Tony Bundock with Genesis Horticultural Solutions shares. "The industry isn't one that can just stop and start after a period of time, and this lockdown came when many growers were in the middle of replanting crops."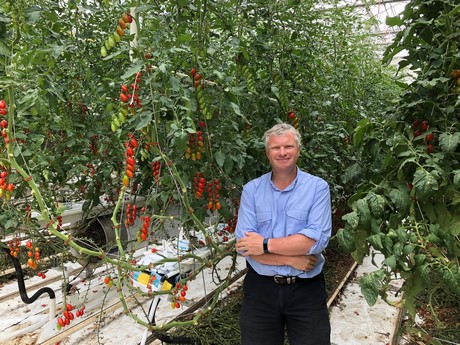 Most growers placed strict bans on visitors to the properties to avoid any risk of COVID spread and site contamination. "Under Victorian guidelines, any staff members that may have visited a deemed 'infectious' site has to get tested and self-isolate for 14 days – which while a sound health control move, had the potential to deplete farms of staff."
"The restrictions also saw many support trades being unable to visit farms in the usual manner to seek sales of materials and ancillary equipment. So it was back to the infamous 'Teams' or Zoom' meetings which while providing contact is certainly no substitute for a face-to-face meeting."
For growers that sell directly at Farmers Markets, this particular avenue of sales was immediately cut off as crowd limits exceeded gathering limits, forcing growers to seek alternative outlets for produce.
Hort-Connections trade show
The lockdown also coincided with the large Hort-Connections trade show in Brisbane which was being run in a covid free state, however, border controls imposed by the Queensland government banned travelers from Victoria entering the state unless individuals were prepared to undergo (and pay for) 14 days of hotel quarantine. "So, whilst the exhibition went ahead, there was a large number of Victorian-based growers and allied trade members who simply couldn't attend the event."
Mental impact
An area that is largely ignored in all of this is the mental impact that these situations have on people, Tony says. "For many industry members this was almost the last straw and having to deal with a situation that was not of their own making has proved a hard pill to swallow for many. This has really seen many industry members having to dig deep into their reserves, both mentally and financially to deal with the situation."
"However, it now looks as though we will see an easing of restrictions at midnight on Thursday providing no new cases is reported that are not linked to existing outbreaks which is good news for the industry. The recovery out of the lockdown will be slow and staged, but hopefully, this is a situation that can be put behind us all."
Wake-up call
"If there is a positive out of all of this, it's been something of a wake-up call to the general public to get vaccinated. An air of complacency had rather settled over everyone as almost nil cases in the past few months hadn't been seen as a trigger to line up for a vaccine shot," Tony concludes. "The alleged issues of blood clots associated with the Astra Zenica jab didn't help this state of affairs. So it was somewhat refreshing to see record numbers of people lining up for their jabs – which is realistically the only way out of this pandemic for the population."
"Of course we did initially see the usual issues of panic buying of toilet paper – something that has been repeated across the world for no real reason, but now things are settling down again as a state of normality returns. It is certainly a testament to the ability of growers to be agile in their response to this ongoing pandemic, but a point that will not generally be appreciated by the general public."
For further details:
Genesis Horticultural Solutions
Tony Bundock
Ph: +61 409 007 610