One year after launching the PRO-MIXMC series at SIVAL 2018, Premier Tech Horticulture launches a novelty for hydroponic production.
Premier Tech Horticulture, originally known on the national horticulture and nursery markets, has reinforced its position on hydroponic vegetable productions in recent years, especially with the PRO-MIXMC series. This year, with the launch of PRO-MIX CWXMC, Premier Tech Horticulture is expanding its offer of hydroponic cultivation bags intended for the production of small berries.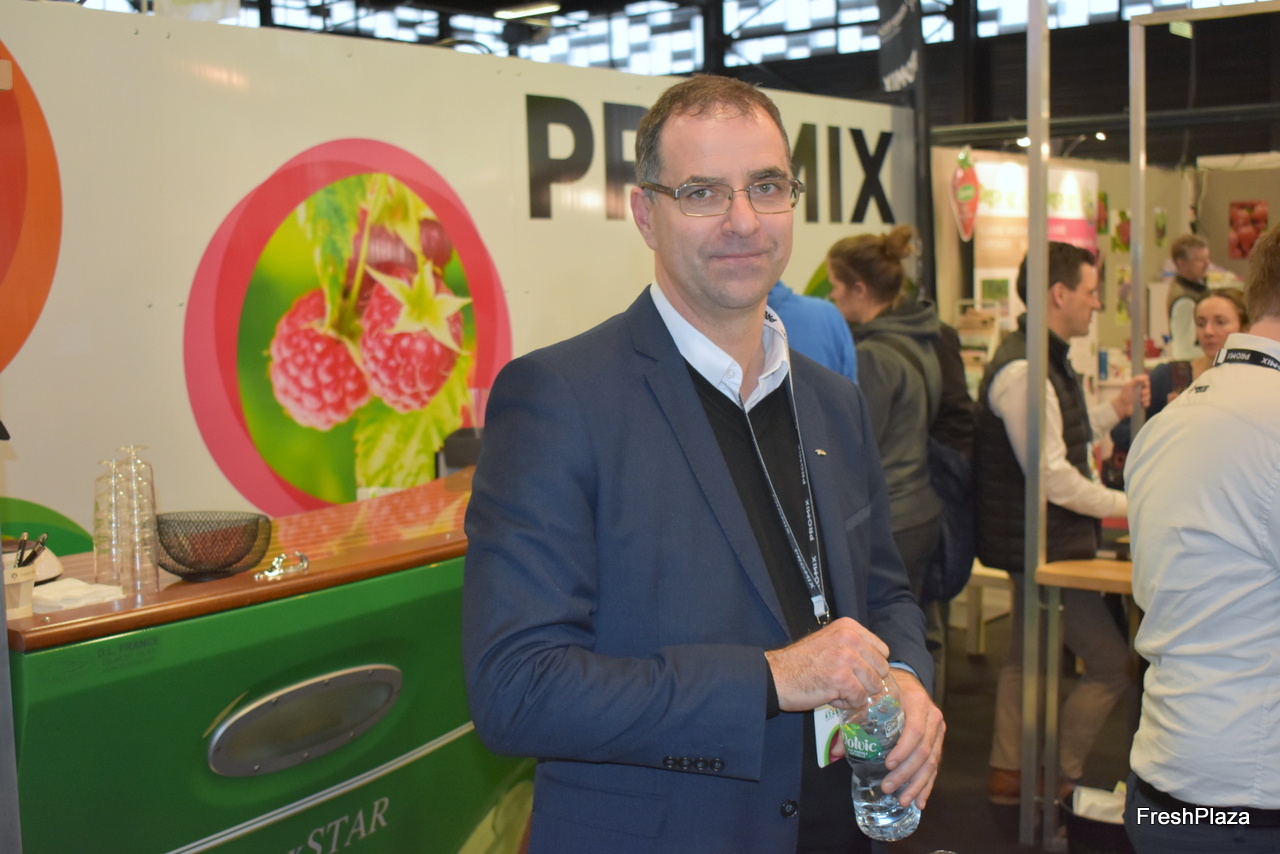 Martin Pelletier, Premier Tech Horticulture, on the Sival 2019
PRO-MIX CWXMC is a professional cultivation aid developed with 100% washed coco mixes, made in Sri Lanka and certified to be free from pests and weeds. In 2011, the Premier Tech group invested in Tropicoir Lanka located in Pita Kotte, Sri Lanka. The company has been a strategic partner of the Environmental Technology Group (ETG) of Premier Tech ever since. This presence in Asia also allows Premier Tech Horticulture to reinforce its supply chain and to ensure traceability for the coco mixes used in the products of the PRO-MIXMC series.
Why a 100% coco cultivation aid?
"Traditionally considered to be by-products, the fiber and its residues (from coconut filling) are now a legitimate raw material, used more and more as a cultivation aid for horticulture and agriculture", the company explained on the show.
"One of its major assets is the balanced distribution of water and air in the environment. Its high water retention capacity also attenuates the effects on the plant of climate variations or irrigation accidents, without the risk of root asphyxia thanks to an optimal air retention." 
"Another advantage of this substrate is its low apparent density, which facilitates its transportation and handling. This ecological and renewable material can be used after cultivation as an organic soil amendment." 
Products information
Cultivation aid NFU 44-551. 
Coco fibers
Bag 14 to 26L, net weight = 1 to 3Kg
Bag dimensions: 
• 118cm x 20cm x 9cm 
• 98cm x 20cm x 9cm 
• 73cm x 20cm x 9cm 
Different holes are available upon request in order to adjust the bag to your cultivation requirements.
Premier Tech Horticulture France
Premier Tech Horticulture France is a Business Unit of the Canadian group Premier Tech. Major actor in the plant industry, the company has built its reputation on its know-how in the formulation and manufacture of custom-made cultivation aids. Substrates adapted to the most demanding crops in plant production, with an efficiency very well reputed in the profession. Premier Tech Horticulture France is located in the Anjou province since 1978, at the heart of Végépolys, a competitive cluster for the vegetable sector with global aspirations.
For more information: 
Valérie Robineau Dupré 
Premier Tech Horticulture 
Phone: +33 (0)6 88 61 78 93 
robv@premiertech.com  
www.pthorticulture-france.com   
www.premiertech.com   
twitter.com/_PremierTech