Last year, Finnish Novarbo Oy (part of Biolan Group) put its first commercial slabs of mosswool on the market. This new substrate, which is a combination of sphagnum and peat, is quickly gaining the interest of growers all over the world. Sphagnum moss is the key element in this product which enables growers to grow more sustainable and circular. The slabs are so far mainly used for the cultivation of cucumbers and tomatoes, but the sole component, sphagnum, also works very well as substrate ingredient for, for example, ornamental plant, raspberry, blackberry, strawberry, lettuce and herb production. Also other soil companies are eager to use it in their mixes as an alternative to peat. Currently, Biolan Group is the only patented company to harvest and supply this sphagnum and they are working on a new improved Mosswool version that requires even less peat. Pirita Luolamaa-Vollebregt tells us more about it in this article.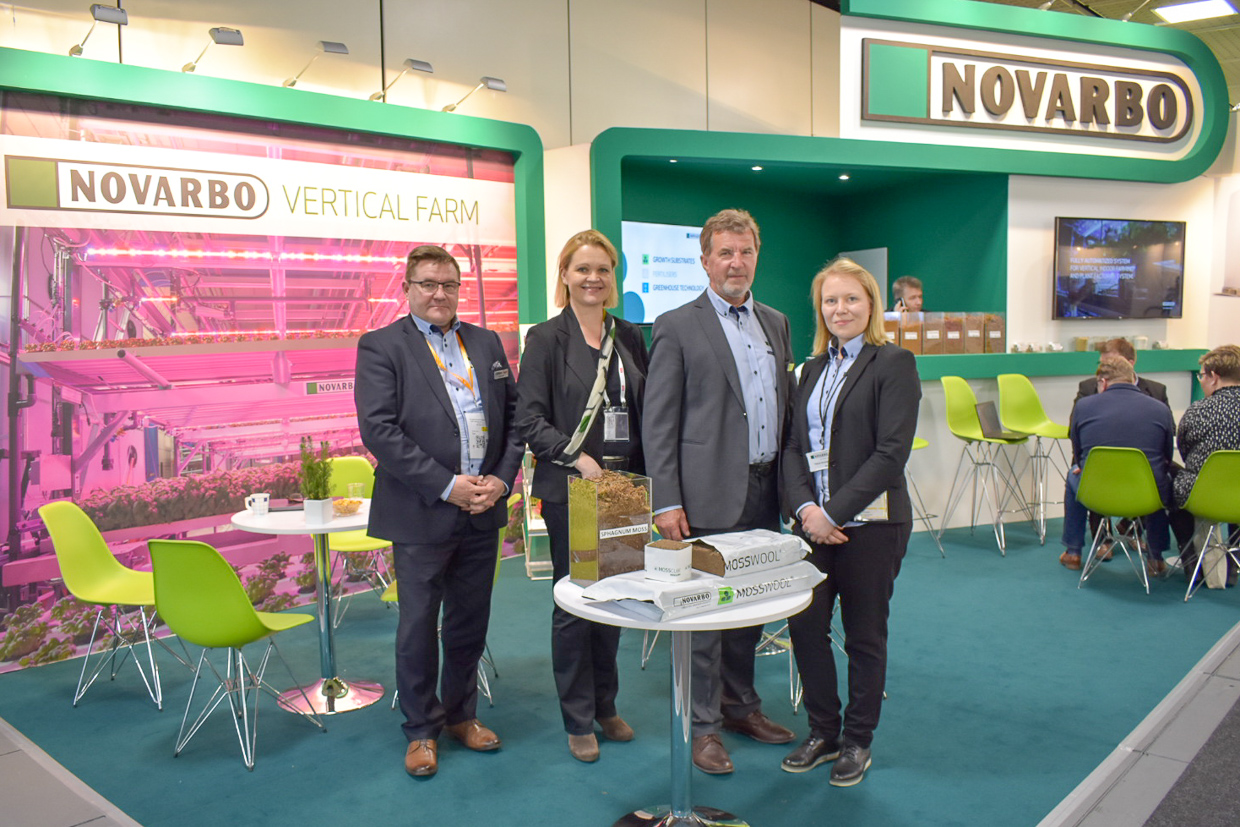 The Novarbo team at the Fruit Logistica in 2019. Second on the left is Pirita. 
Sphagnum
Over the years, sustainable alternatives have become increasingly important. Peat is a commonly used product in Finland, but it is increasingly less accepted in the society as isn't a sustainable product. However, the advantages in cultivation of many crops are huge and for this reason, Novarbo started to look for alternatives. "They already started to look for an alternative more than 20 years ago and they discovered the potential of sphagnum. "Sphagnum moss is a genuine renewable resource has many good properties as a growing medium. It retains moister while remaining airy, the PH is below 5 it has antiseptic characteristics which means that fungi aren't growing well on it."
In this video above, you can see how it is being harvested. "Beneficial of this nature product is that the living moss will regrow after harvesting," Pirita explains. "The harvesting process aims for fast regrowth. Depending on the bog it can be different, for example that surface of the bog is not skimmed bare or that the surface is flattened to allow faster regrowth of Sphagnum. At all times the natural water environment will remain on the bog as well as plenty of spores and pieces of moss to allow rapid start of the regrow. After harvesting, the bogs start returning to their former state immediately. New harvest on the same bog can take place in average of 25-30 years. Therefore this is a sustainable alternative or addition to peat."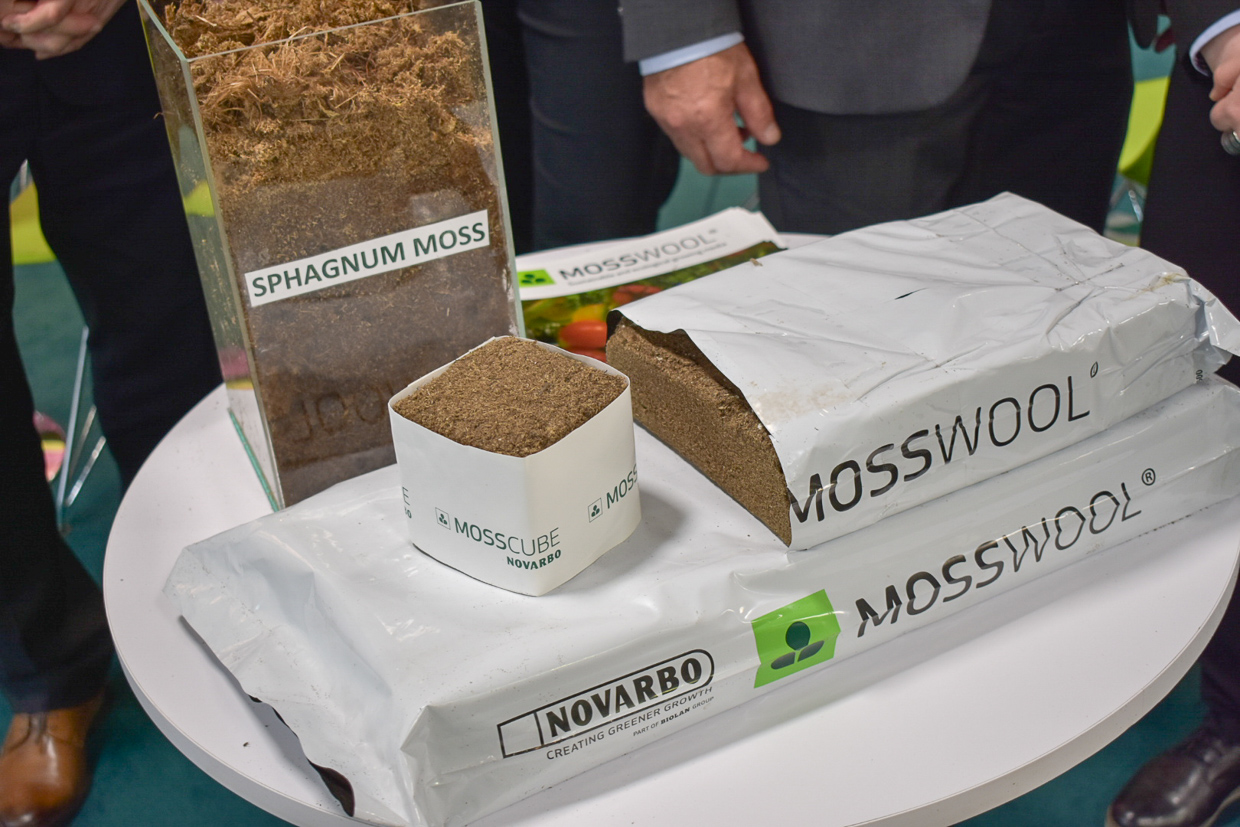 Mosswool: alternative to stonewool
Over the years, Novarbo Oy has developed a new eco-friendly growth slab for greenhouse cultivation and named it Mosswool. "The slabs are a combination of moss and peat, processed in airy cultivation mats that keep their shape throughout the cultivation. Next to research facilities it has been trialed at several commercial cucumber and tomato growers in Finland with positive results. "Finnish growers are used to grow on pressed peat mats, but after trialing the Mosswool slabs many shifted into Mosswool." It is also has proven to be a good alternative to stonewool. "Just like stonewool, it keeps its shape and airy structure during cultivation and in trials with cucumber plants in Finland, for example, it even showed a better production per square meter. With trials next to coir in the Netherlands the yield results were very similar to each other with both cucumber and tomato. On top of that, it can save growers money in waste costs as, afterwards, the slabs can simply be processed as green waste. Used slabs can be used to improve soil structure in open field or after composting it can be used as a valuable ingredient for example for consumer grow bags.
Expanding markets
In 2019, Novarbo Oy opened the first Mosswool factory and after some fine-tuning, the first larger numbers left the factory in 2020. Several Finnish growers are using it and they are expanding markets. "Since 2019, crops are on Mosswool at both Tomato World and Wageningen UR already, but we are now also involved in trialing at more schools and at cucumber and tomato growers with both slabs and Mosscube growblocks. Also, we receive increasingly more requests from other countries. In the UK for example, a country that wants to move away from the use of peat, we are happy to have active, interested parties for trials."
New version of Mosswool slab
At Novarbo Oy, they are very pleased with their achievements so far, but are continuously looking to innovate and improve their product. "We want to decrease the use of peat as much as possible and we in 2020 started testing a 'new component' to the Mosswool slab mix, which is wood fiber. The combination of sphagnum and wood fiber is beneficial as sphagnum retains moister and wood tissue does the opposite." Currently they are trialing this new version of Mosswool at different growers in different countries. "It is a long process, but so far, the results are very promising"
For more information:
Novarbo Oy
Lauttakyläntie 570
FI-27510 Eura
Telephone exchange: +358 2 5491 680
E-mail: sales@novarbo.fi 
www.novarbo.fi