The show is over in Berlin! For the first time the Fruit Logistica dedicated hall 8.1 especially to greenhouse technology. The results can be found here: we have some photos captured for you. 
Check out the horticultural photo report here.
Last week, for the 27th time, Berlin was the stage for Fruit Logistica. This three-day trade show is the largest of its kind in the fruit and vegetable sector. Exhibitors from all over the world once again converged at this fair. As every year, it had a central theme. This year, it was, again, sustainability. However, the coronavirus garnered much attention this year.
Over the last couple of years the show has become more and more horti and this year even on the third day many tired and smiling faces were still to be found. There were even more smiling faces at Syngenta, who received the Innovation Award for their purple cocktail tomato Yoom.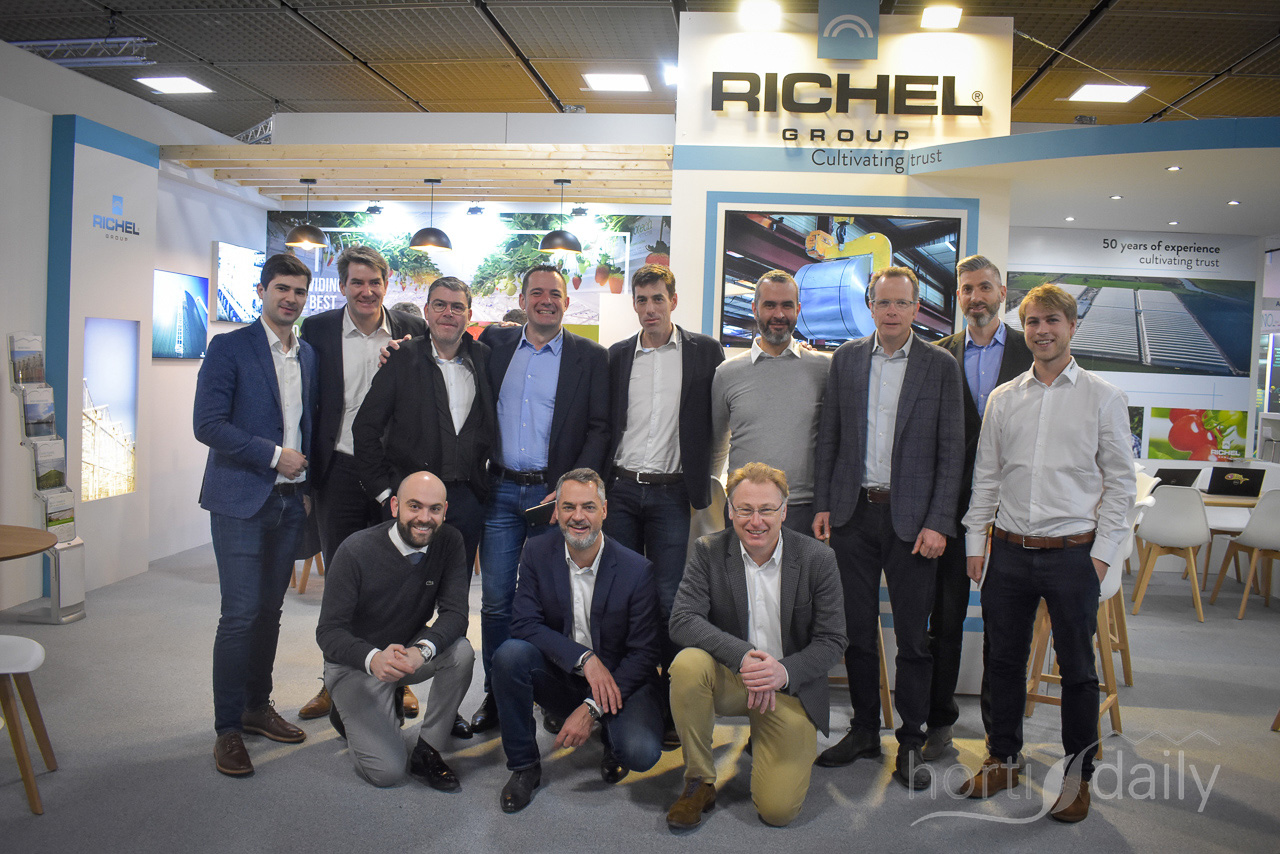 That's 12 times Richel ready for the Fruit Logistica! 
Visitor figures
The trade fair organisation will be presenting (visitor) figures tomorrow, but even before that time a preliminary balance can be drawn up. Wednesday started quietly but went better during the day, Thursday it was 'just very busy' and Friday, yes, Friday was mainly the time until the fair closed at 4 pm - with many exhausted partly thanks to the Berlin Party of which we will present many photos tomorrow.
In general people notice a small decline in visitors, which is considered to be a result of the coronavirus outbreak, yet since most people entering the horticultural hall have a high interest in greenhouse tech, most exhibitors do not seem to mind too much. In the end all the clichés are true: it is about quality, not quantity when it comes to visitor numbers.
Check out the horticultural photo report here.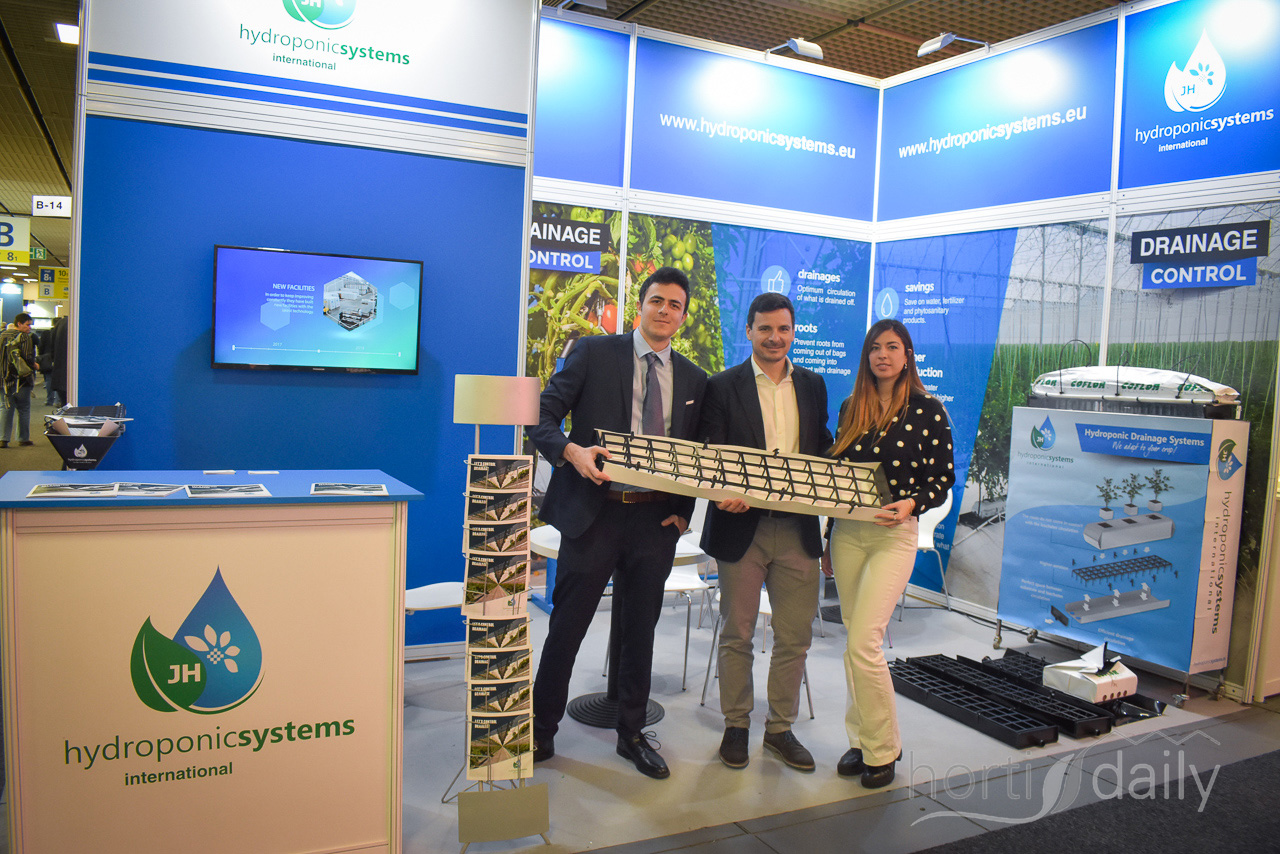 Antonio Garcia, Guillermo Baquero and Isabel Ruiz of JH Hydroponic Systems
Coronavirus
There were 94 Chinese companies present at Fruit Logistica. That is not to mention the many visitors expected from that country. It was, therefore, feared that the virus would quickly spread at the trade fair. This, however, did not happen. Many Chinese exhibitors and visitors did not attend though.
About half did not attend the show. Many of the companies that did have stands had people from Europe staffing them. As a precaution, some exhibitors from the UK and Scandinavia stayed away too. No one from the Netherlands or Belgium stayed home. This resulted in the exhibition center's aisles being slightly less busy. However, the visitors who did attend were of high quality. For this reason, many exhibitors consider this edition of Fruit Logistica to be a success. Thursday, in particular, was busy. The number of visitors did, however, dwindle on Friday.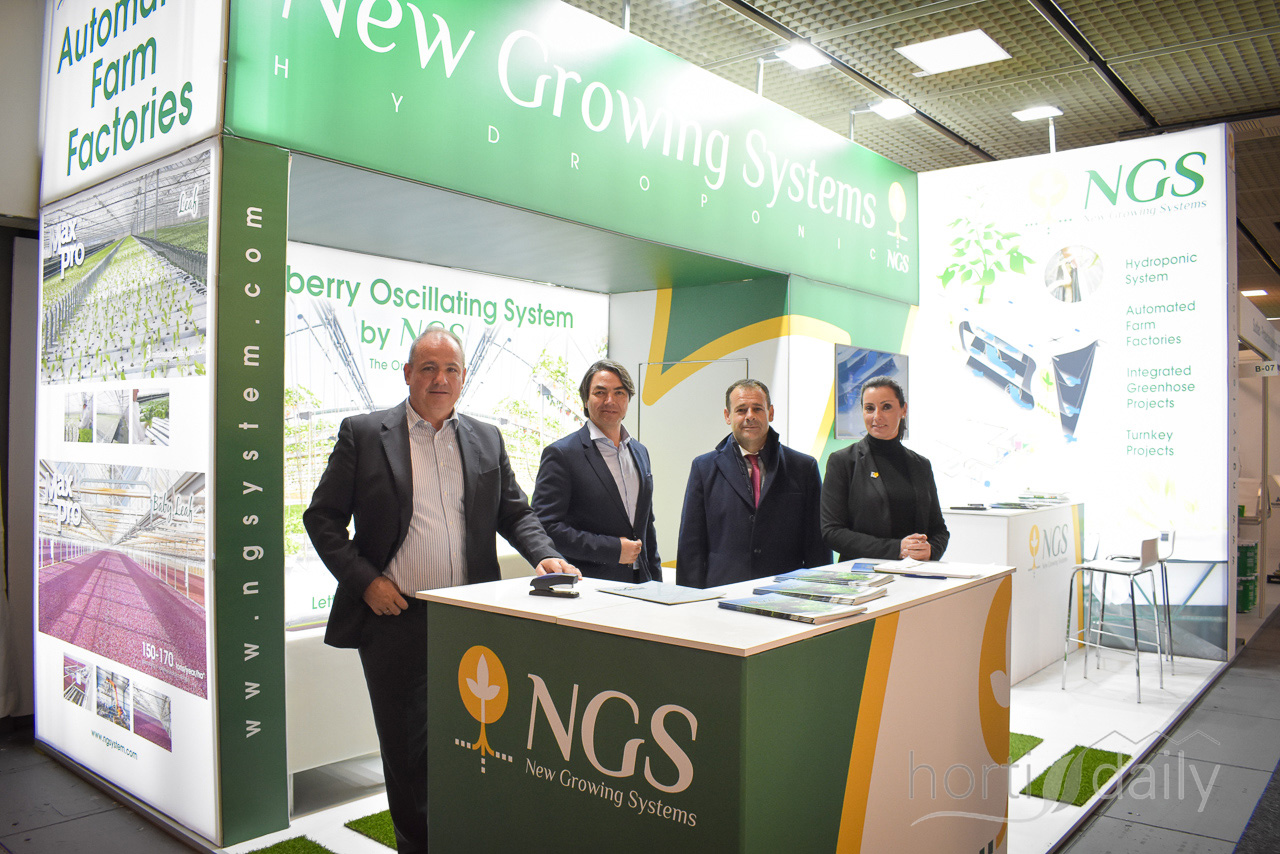 The expansion of the cultivation systems of NGS (New Growing Systems) has become impressive, both within and outside Europe, the USA and Canada. In the photo Donald Gartland, Salvadore Navarro, Jose Maria Montalban & Ana Maria Navarro.
Cardboard is trendy, plastic not so much
There has been a slew of new rules and regulations around the use of plastic. In the wake of this, machine and packaging suppliers presented a host of new concepts. The use of cardboard and paper, in particular, is increasing steadily. However, so is wood and ideas that use the minimum amount of plastic. German retailers are among those showing adaptivity to these new concepts.
As a result, suitable solutions are now being sought for less obvious products. These include lettuce, mushrooms, and soft fruit. It is striking that plastic takes precedence when it comes to bulk packaging. These are used for things such as storage crates, pallets, and logistics boxes. That is mainly for hygienic reasons. Fruit Logistica's Dutch exhibitors have their reservations about the sustainability gains that will genuinely be made with this.
Check out the horticultural photo report here.
Sustainability
Reducing companies' environmental footprint does not lie only with packaging. Although it is nothing new, the importance of having sustainable business practices seems to be increasing. The concept cropped up in many discussions held at Fruit Logistica. It was repeatedly referred to as the most important current development. Sustainability comes in many guises at the fair. However, its implementation was mostly centered around avoiding, reducing, or compensating for CO2 emissions.
For example, there was a CO2 neutral stand at the trade show. Many companies also focused on reducing the use of pesticides and water during cultivation. Some are even becoming bio-dynamic. That is to take that extra step up the sustainability ladder. After all, sustainability is no longer focused solely on the product. Above all, it is primarily about taking responsibility.
Hall 27
There was a new hall at this year's Fruit Logistica - Hall 27. The Belgians and the Chinese were to populate this space. At least, that was the plan. Belgian exhibitors always used to be housed in Hall 6.2. About half of the stallholders from this country were positive about their new location. The aisles are wider, and it has an entrance and exit. They were also happy with the caliber of visitors.
Other Belgian exhibitors were less enthusiastic about this relocation. They think it was much quieter. The signposting to the new building could also have been better. All the exhibitors were, however, pleased with the Flanders Agricultural Marketing Board's (VLAM) new stand's concept. The stalls were bigger than before, and the colors and materials looked much warmer and more attractive.
Check out the horticultural photo report here.

The team of the young Israeli breeding company TomaTech. In a short period of time they have launched a wide range of tomatoes.
Local for Local for the Germans
Besides sustainability, regionality was a recurring principle among the German exhibitors. The huge boom in regional campaigns and marketing ideas seems to be a thing of the past. German consumers, however, still prefer products from the 'Heimat' (homeland). It is no coincidence then that six German cooperatives recently joined forces. These are from all the main farming regions.
They launched a new German apple variety, Fräulein, at this year's Fruit Logistica. This variety received extra attention, as did Gerd Sundermeyer, who 'discovered' the Fräulein. From November 2020, the first of these fruits will be available in German stores. The goal is to produce a total crop of 15,000 tons within four years.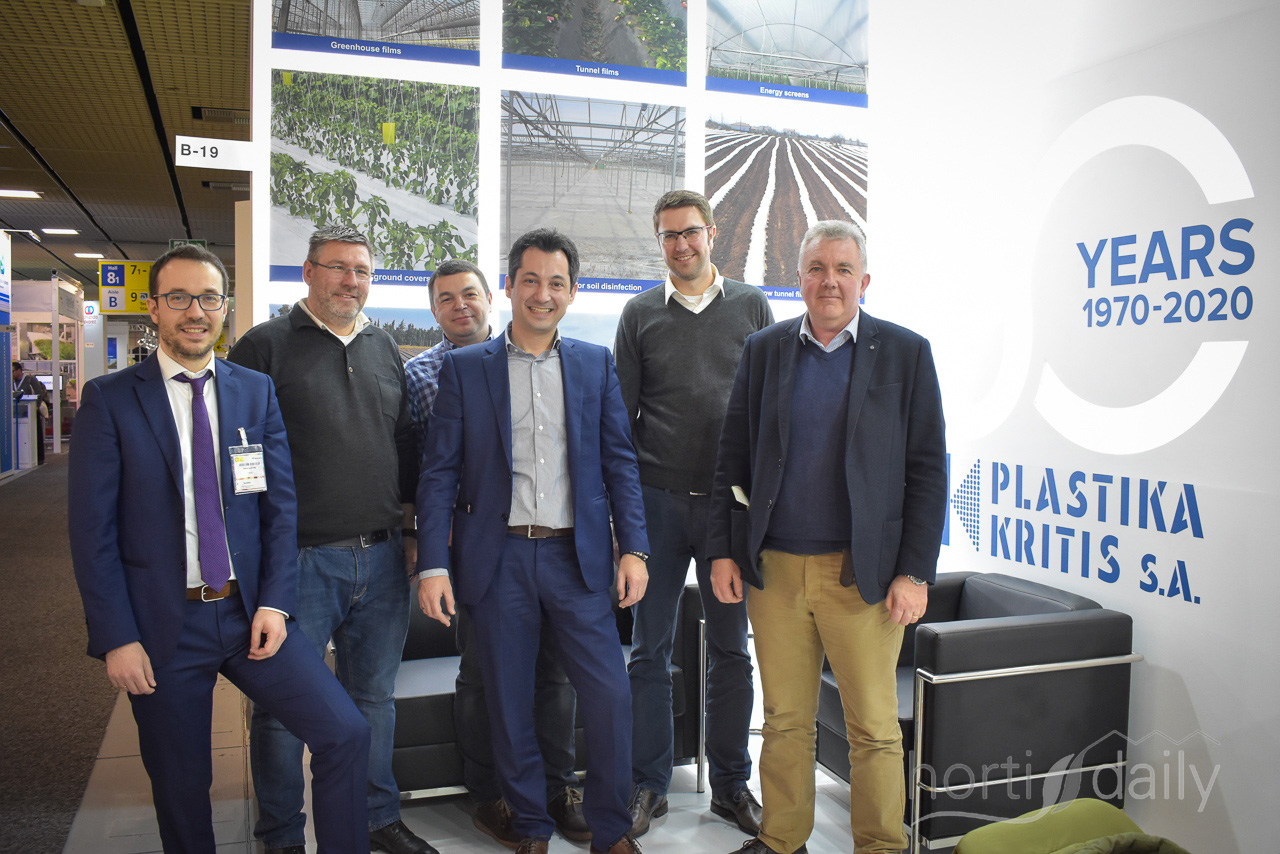 This year Plastika Kritis is celebrating its fiftieth anniversary and the team of British company XL Horticulture, which was visiting Plastika Kritis at the time of the photo, is looking forward to a party!
The Brits and Brexit
The English were well represented at this year's trade show. For some companies, it was their maiden appearance. Brexit did not go unmentioned. For many British exhibitors, their participation in this trade fair was a way of showing that they remain open to trading with Europe. Some larger companies, however, did not attend. They find the Spanish Fruit Attraction to be of more value to them when it comes to meeting clients. This year, for the first time, Total Produce and Dole had a combined stand.
Fewer Spanish exhibitors
This year's Fruit Logistica drew 15 fewer companies from Spain. Many of the exhibitors from that country formed part of a communal stand. The Spanish government subsidized this stand. The growing importance of the sector's other major trade show, Fruit Attraction, is the reason for the reduced number of Spanish companies at this German trade show. Fruit Attraction is held in Madrid.
Click here for the international exhibitors' photo report
Click here for the Dutch exhibitors' photo report
Click here for the Belgian exhibitors' photo report
Click here for the Latin American exhibitors' photo report