Following their Sweetpops snack tomato assortment the team with Red Sun Farms recently introduced Sweetpeps: greenhouse-grown mini peppers in a convenient pouch. Carlos Visconti CEO of USA and Canada Operations and Harold Paivarinta Senior Director and Head of Sales for North America, explain how the company wants to fulfill the needs of their retail partners. "As an organization we are consistently growing and expanding our facilities in anticipation of what's to come."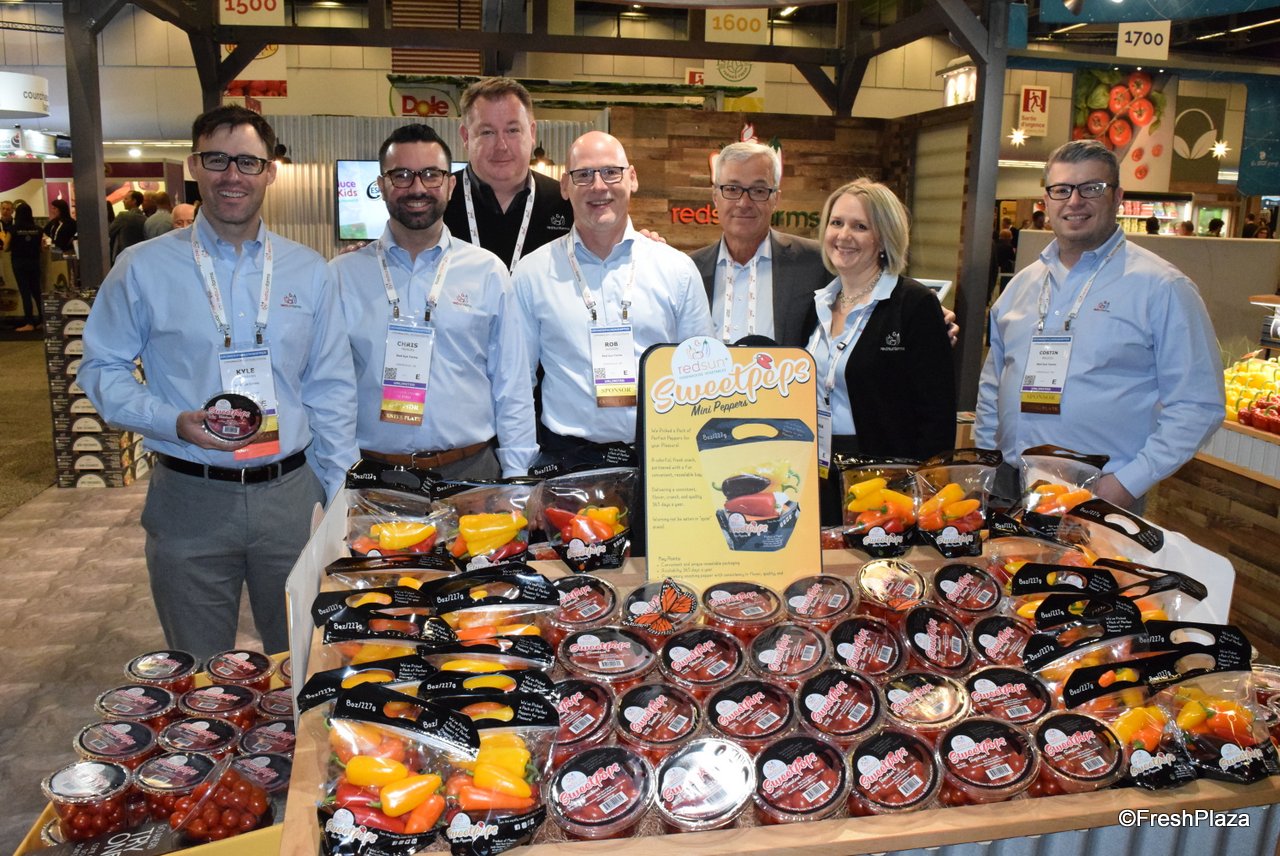 Presenting the Sweetpops & Sweetpeps on the PMA Fresh Summit this year
Chocolate colour
"With the expansion of the snacking and speciality segment we're setting the bar in presenting new flavors, colors, shapes and even packaging", Carlos Visconti, CEO of the USA and Canada Operations, says when proudly showing the new Sweetpeps. The novelty was launched at Southern Exposure earlier this year and recently showcased at CPMA. The catchy 8 oz. bag includes four colours of sweet mini peppers.
"Greenhouse-grown mini peppers, packed with flavour", Harold Paivarinta, Senior Director and Head of Sales for North America, adds. "There's the vivid colors, including the distinctive fourth chocolate colour. This variety demonstrates our level of consistency & commitment to offering a unique eating experience. With the Sweetpeps, we are setting the standard of snacking mini pepper."
Rising market
The market for snacking vegetables in general is doing very well. "We definitely see a rise in snacking and specialty varieties every year", says Harold. "Consumers are more educated and more health conscious than ever. Most are looking for healthy snack alternatives, as well as a wide diversity of textures and flavors, to liven up their diet. Healthy eating can be fun and delicious, and snacking and specialty varieties contribute to that."
It might be clear: kids aren't the only group that are fans of the snacking vegetables. "Definitely with the snack size of the product and fun packaging we can see the "kid friendly" appeal. And we all want our children to eat healthy and consume more fruits and vegetables", Harold says. "But Sweetpops and Sweetpeps appeal to a wide variety of individuals, from kids, to young professionals "on the go" that want a tasty healthy snack, or someone that is hosting a dinner party and are looking for a fun appetizer. These products are very versatile and that's one of the characteristics that makes them so great."
Retail partners
With growing facilities in the US, Canada and Mexico Red Sun Farms is one of the largest greenhouse vegetable producers in North America and over the last couple of years they've only expanded their business. Is the snacking assortment their secret? "Although the growing popularity of this segment is adding to the growth of the company, our ability to go outside the box, and be the innovative organization that we are, is what has contributed to our growth", Carlos says.
He emphasises the importance of the partnerships with retail & foodservice partners in the companies expansion. "Our goal is to anticipate our retail partners needs of variety to create excitement in the produce department. This is done by building true partnerships and supporting them, not only in innovation, but by fulfilling the needs of the market, whether during growth and promotional periods, or just year round availability. Our partners can count on Red Sun Farms as a reliable source whatever the situation may be."
This goes for their snack products as well as their conventional products. "Our conventional products still remain one of our biggest sellers and we anticipate there will always be a market for that. As an organization we are consistently growing and expanding our facilities in anticipation of what's to come", Carlos explains. "Our team does a fantastic job of forecasting and finding the right balance of conventional vs specialty depending on our retailer's needs."
Specialty depending
Does this mean further expansion of the assortment can be expected? What will be next in line? Only a month after the introduction of the Sweetpeps, this might be a bit soon to answer. "Only time will tell!", Carlos laughs. "But with the success of Sweetpops and now Sweetpeps we are definitely making waves in the produce industry and we have no plans for stopping.

For more information:
www.redsunfarms.com