"It is the last of the greenhouse fennel," laughs Henk van Doorne. This farmer is from the Dutch town of 's-Gravenzande. He has been active in the growing and selling of lettuce and tuber varieties for many years now. This will soon come to an end. The greenhouses have been sold to 'neighbour' Beekenkamp. Then, it is over with the cultivation on  Noordlandseweg.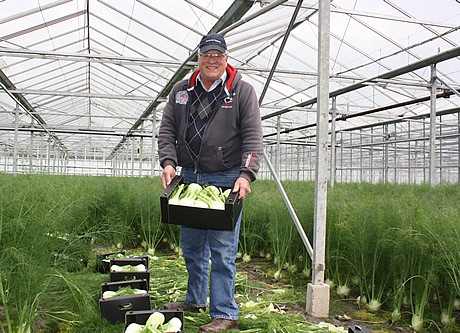 But for now, there is still the fennel crop. Henk harvested the first of this last week. As one of the 'last of the Mohicans', this Westlander has been cultivating fennel in a greenhouse for almost 35 years. This year, he did, however, choose to use a smaller part of the greenhouse for this.
"This was mainly driven by the staff issues we had last year. We needed to get the fennel out on time. It is very difficult to find people who can, and want to, do the work in this peak period," says Henk.
It is not a bad thing that, this year, there is about 2,000 - 3,000m2 less fennel in the greenhouse. The first sales are still disappointing. "They are less easy to sell. Last year, was a good year from an economic point of view. But this year, sales are more sluggish."
"However, I have always found fennel to be a beautiful crop. And fennel cultivated in a greenhouse also tastes much better than that grown in full soil," the grower continues.
The Westlander (70) usually tries to be on the market before the end of May. This is before the full soil fennel gets on the market. "These now grow under canvas bags, just like cabbage. So, I must make sure I am on the market."
Henk sells his greenhouse fennel mainly to the exporters in the area. "I still have about six or seven clients. I also still have a little garden elsewhere. So, I will keep pottering along. But, particularly in the afternoons, I will take it a bit easier. After all, you are only alive once," Henk concludes.
For more information:
Henk van Doorne
Van Doorne Imex
60-62 Noordlandseweg
2691 KM 's-Gravenzande, NL
Tel: + 31 (0) 174 417 989
Fax: +31 (0) 174 417 989
Mob: +31 (0) 626 068 284 
h.vandoorneimex@gmail.com