October 17, 2018. On this historical day, recreational cannabis becomes legal in Canada. While medical marijuana has been legal for some time now, the legalization of recreational pot in such a big potential market represents a paradigm shift in the industry (by the way, if you're curious about where those potential buyers will get their product, check out this article on BNN Bloomberg). Not surprisingly, opinions about what will happen abound. Already in 2015, MJ entrepreneurs saw big opportunities when Justin Trudeau, a keen supporter of legalization, was elected PM. A whitepaper from Tantalus Labs also saw opportunities for the market in British Columbia in particular, and industry insiders and experts already predicted a bright future for the Canadian cannabis sector in 2017. Now, with that future having arrived, it's a good time to look into some of the challenges and opportunities for the industry in Canada.
Bruce Linton, CEO of Canopy Growth, sells the first legal marijuana in Newfoundland
Opportunity: Investments
When such a big market opens up, it's only natural that people flock to it to see if they can get a share. In the early days of the cannabis boom, companies attracted private investors who would buy shares of individual companies. To make their life a bit easier, an ETF was launched in April 2017, combining 14 Canadian cannabis stocks. (The ETF recently passed the $1 billion mark.)
While banks were at first still hesitant to invest, this year they're showing less trepidation - for instance, in January the Bank of Montreal financed Canopy Growth. Later that year, in a forward-looking report from Deloitte, the firm estimated cannabis sales to exceed $7 billion in 2019. No wonder investors big and small are scrambling to get in on the ground floor.
In recent months, the investment carousel took yet another turn, with large beverage companies showing interest in the industry, seeing potential in cannabis-infused drinks. A notable example is Constellation Brands investing a whopping 4 billion USD in Canopy Growth.
All that money is having a big impact on the big players in Canadian weed, as shown in the graphs below, showing the development of stock prices over the last year (data retrieved from Google Finance on October 10, 2018).
OrganiGram
Canopy Growth
Aurora Cannabis

Supreme

Emerald Health Therapeutics

Cronos Group

Hexo
Challenge: Beating the hype
With stocks soaring high, it's easy to draw comparisons with the dot-com bubble. Indeed, in early 2017, experts already warned that investors may be expecting far too much of the budding marijuana market. And in a piece on Forbes, cannabis investment expert Kris Krane explains that while there is a lot of substance to the Canadian MJ industry, valuations are also partly based on speculation. In other words, caution is advised.
Online investment magazine The Motley Fool has an in-depth analysis on why they believe marijuana stocks will not live up to the hype:
Sales potential will initially be constrained by supply issues and Health Canada
History says oversupply will decimate the per-gram price for dried cannabis
The black market won't just disappear
Export demand volume is a complete unknown
Dilution is a long-term issue
Another investor recently told CNBC that Canadian marijuana stocks are overvalued. Hype or not, starting today, marijuana companies will have to put their money where their mouth is. Or, as Canadian journalist Peter Armstrong says, the time has come for pot stocks to deliver on the hype.
Opportunity: Construction
Even if the cannabis boom can't live up to the hype entirely, it's still big business. Take greenhouse construction, for example. Although many growers have made the switch from veggies to cannabis, there is still great demand for new infrastructure to grow the other type of green.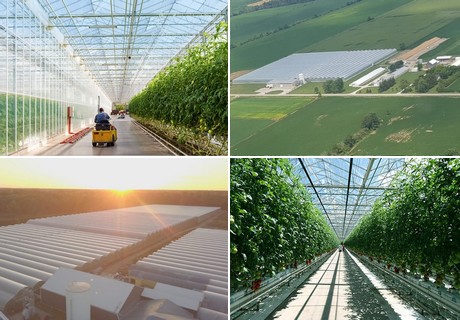 An 800,000 sq.ft. greenhouse at Edmonton Airport, 300,000 sq.ft. at Tilverton, 1 million square feet of Dutch greenhouse for Hydropothecary (now Hexo), and a 1.5 million sq.ft. production facility in aptly named Weedon - these are just a few of the projects providing fodder for greenhouse builders.
So, all of those new plants will need lots of steel and glass - and expertise. Already in 2017, the folks at Aurora realized this, and acquired greenhouse design firm Larssen. Other Canadian cannabis companies are also bringing in outside experts to oversee construction and set-up of new greenhouses, with Peter Quiring building a 1.4 million sq.ft. greenhouse for Auxly, and Casey Houweling overseeing the above-mentioned Weedon project.
Challenge: The neighbors
When building a greenhouse, you have influence over almost everything in the construction process: location, materials, technology, size... but some things you just can't influence. Like the people who are already there when you start building.
One of the biggest complaints residents will have is odor. In April 2018, Public Health Ontario even dedicated a report to this, in which they recommend growers to use "appropriate ventilation and filtration systems at cannabis production/cultivation facilities to mitigate the release of substances that may result in odours."
Despite technology to combat odors, Canadians are increasingly complaining of smelling pot. In Metro Vancouver, for instance, people regularly get whiffs of marijuana. The city of Delta is now trying to figure out how to block out the smell. More to the east, in Kingsville, the rising number of cannabis greenhouses is also worrying locals.
Concerns from local residents have already led to several projects being cancelled or held back, such as this Green Organic greenhouse near Hamilton. They found a clever solution though: they're now going to use the new greenhouse to grow chrysanthemums. Of course, the plan is still to switch from potted mums to pot when the time is ripe.
Challenge: Supply
A wealth of producers have been licensed to grow cannabis by the Canadian government, which buys the stuff from growers to sell it on to consumers in government-run stores. The Province of Québec has ordered tons of cannabis from 6 growers, and Ontario signed supply agreements with no less than 26 producers. Still, it looks like it won't be enough.
Because growers had to wait until they could be sure the Cannabis Act would pass before ramping up production, shortages on the market are to be expected. Vic Neufeld, CEO of Aphria, which has supply agreements with all Canadian provinces and Yukon, is upfront about this: "If you want X kilos from Aphria, I cannot make that promise until the spring of 2019", he told the Financial Post. Still, they're certainly trying: by May 2019, Aphria expects to increase its total annual cannabis output to 255,000 kg, with the help of several big expansions.
In order to gather enough supply, cannabis companies are even shopping around at fellow suppliers, as evidenced by this deal between Tilray and Supreme, for instance. Whatever tricks suppliers have up their sleeves though, there simply won't be enough in the beginning. "The market isn't fully online immediately," as Bloomberg quotes Cronos CEO Mike Gorenstein. "The first year is a soft launch."
Challenge: Finding staff
So, you've got a greenhouse, and an official stamp of approval to start growing. All of the tech is there, you just need one more ingredient in the mix: people. Preferably those who know their way around a greenhouse. But that's not going to be easy.
All the big players are on the market for staff, which offers opportunities for employees - in the past year alone, marijuana-related jobs in Canada have tripled. A good position for prospective candidates to be in, but it also means that companies are fishing in a pond that's being drained fast. Village Farms CEO Mike DeGiglio even calls this the most important challenge for the cannabis greenhouse business. In the run-up to legalization, Aphria found this out the hard way: they had to chuck 13,000 plants due to a lack of skilled labor.
Opportunity: Education
All those potential candidates can't just enter the greenhouse with a cannabis tabula rasa - they need to be educated. A great opportunity for universities and colleges to offer marijuana cultivation courses, and one that they've grabbed firmly with both hands.
Already a year ago, Sherbrook College anticipated the cannabis boom, and announced it would offer cannabis production training. Not long after, Niagara College launched a cannabis production course of its own. Cannabis education programs are also offered by Mount Royal University and Kwantlen Polytechnic University.
Challenge: Security
Thousands of cannabis plants in one facility, ripe for the picking. What could possibly go wrong? Well... it's not exactly Fort Knox of course, but the green gold also requires quite a bit of protecting. The Government of Canada has a list of strict security requirements for cannabis cultivation facilities to follow. Just to illustrate how much has to be done to secure those pricey plants: Jack Greydanus told us earlier this year that his old pepper farm, when converted to an MMJ facility, had to install 300 security cameras.
A costly affair for growers, but a golden age for the security business. Canadian security professionals have called it a huge business opportunity, with state-of-the-art security systems, armed guards, bulletproof vehicles and 24-hour video surveillance forming a multimillion-dollar industry in Quebec alone. Even former police officers are getting in on the game, as evidenced by this article in The Star.
Opportunity: Suppliers
It's fairly obvious that greenhouse builders and security professionals have a chance to profit from the green gold rush, but there are plenty of other suppliers in the horticulture industry that can get a slice of the pie.
One of the first suppliers to realize the potential was Argus Controls, supplying monitoring and control systems to Aurora Cannabis. And they're not the only ones. BioWorks had its biological insecticide Botanigard approved for indoor cannabis cultivation, Affinor jumped into the market with vertical farming systems for cannabis, Fogco advertises its humidifiers for marijuana growers, Plant-Prod launched a dedicated line of MJ fertilizers, and Acniti is marketing its Ultra-Fine Bubble technology to cannabis growers.
And the green supply train rolls on this year as well, with Meteor Systems seeing opportunities in the cannabis sector, RotoGro getting a large order from an MJ grower, Scotts Miracle-Gro moving further into the industry by acquiring Sunlight Supply, a new propagator (with Casey Houweling throwing his weight behind it) supplying cannabis young plants, and Roots bringing its cooling technology to the MMJ industry.
Opportunity: Research
While the horticulture industry has decades of experience growing vegetables and flowers under glass, greenhouse cannabis is still in its infancy, so there's lots of opportunity for pioneering research, and that's exactly what we're seeing.
For instance, in 2016, Wageningen University conducted a study into growing cannabis under LED. A year later, Valoya shared a study comparing HPS and LED in marijuana cultivation. Across the pond from Wageningen, the University of Guelph is also looking into how to increase the number of cannabis crops, for instance with the use of substrates. Last month, Delphy announced it would also get in on the action. The Dutch research center will work together with Canadian colleagues to explore cannabis cultivation.
Meanwhile, cannabis companies are also investing in R&D. Earlier this year, Scotts Miracle-Gro, through its subsidiary Hawthorne and in partnership with Flowr, invested in a 50,000 sq.ft. research and development facility, exclusively dedicated to innovations in the cannabis industry and advanced cannabis research. The center, which recently broke ground, is expected to open early 2019.
And a research partnership between NRGene and Swiss company Pure Cannabis Research is to speed up the breeding process of the latter's cannabis plants.
Challenge: Research
Wait, wasn't that an opportunity? In terms of cultivation, sure. But there's another little matter: the medical use of marijuana. And the jury isn't out on that. As this article in Canadian Nurse explains, marijuana has earned itself a bit of a bad rap, thanks in no small part to the illicit nature of the drug until recently. And not all medical professionals are fully convinced of the use of cannabis to treat ailments. So, the cannabis industry has something to prove, and that's exactly what they intend to do.
For instance, Canopy Growth has its own research incubator, Canopy Health Innovations, which was established "to research and develop clinically ready cannabis drug formulations and delivery systems for both human and/or animal patients targeting unmet medical needs in traditional pharmaceutical markets". Aurora Cannabis hasn't been sitting still either: this summer, they partnered with McGill University to study the use of CBD as a therapeutic drug.
It will take a while before we know all the ins and outs of using cannabis medically, but the legalization wave will surely speed things up, if only thanks to the extra funds that are becoming available for new research.
Challenge: Safety
We've already looked at securing a cannabis facility, but there's another type of security challenge ahead: how do you make sure crops are safe for consumption? The food industry has benchmarks in place in order to prevent food safety issues, but the marijuana industry is only just getting started on the road to an air-tight supply chain.
In the semi-legal Dutch cannabis landscape (where growing the stuff is illegal, but selling it is permitted), it was recently found that no less than 92% of Dutch weed contains traces of illegal pesticides. Can the Canadian cannabis industry do better after legalization?
In 2017, there were some reports of medical marijuana being recalled (such as this one and this one). While it may seem like bad press, it's actually a good sign that cannabis suppliers are working in tandem with Health Canada to ensure only safe product ends up in the hands of consumers.
And the Canadian government seems to be prepared to meet this challenge: the Cannabis Act provides strict requirements for producers who grow and manufacture cannabis, and industry-wide rules and standards, including packaging and labelling requirements for products, prohibitions on the use of certain ingredients, and good production practices.
Challenge: Staying in business
Perhaps the biggest challenge of all though, is simply staying afloat. In a landscape of increasing consolidation (with the $2.2 billion takeover of MedReleaf by Aurora as a prime example), the smaller players run the risk of disappearing altogether.
Last year, Ron Berkhout of Inhuis Contrived Inc. already issued this warning: "It is just a matter of supply and demand. Companies who are growing in an inefficient way are going out of business".
Or, as Bruce Linton, founder of Canopy Growth, puts it in an EY report: "I believe the vast majority of participants in this market have a limited interest in actually creating a proper and sustained business. Principally, they are here because there's no money left to be made promoting gold or oil. Only a handful are intending to be successful, long-term companies.
"In this business you need a 125,000- to 150,000-square foot production facility at the absolute minimum, or you're an entrepreneur running a craft producer. So, over the long term, I see an industry with two or three major, relevant players and bunch of craft producers."